Last week I was away for the week with the family, we were staying in Speyside region of Scotland where there is a high concentration of distilleries, so it would be rude not to visit a one or two, and sample some of the drams they have to offer.
The first visited was Glenfarclas as I really like their malts. Its been family owned since the 1850's by J & G Grant, all of the owners have been named John or George, handed down father to son. The owner still lives on site and works in the distillery office. This tradition is going to have to change, as he has 2 girls, neither of whom are named John or Gerorge (not even Georgina or Johana).
When we arrived the hills had a light dusting of snow and it was very picturesque, I was running late as usual, so didn't get a snap of it, on the way out I did, but most of the snow had melted.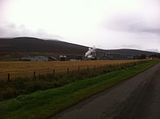 Like most Scotch distilleries these days, they no longer malt on site and buy in the malt from a malt house. This still needs processed before milling so it goes through the dresser
and then the destoner to remove any pebbles, this just shakes from side to side in a sieving action.
more to follow.......