First off please tell me if I've posted in the wrong section of the forums!
My original plan of a valved reflux Nixon stone offset head quickly chnaged the moment I found HD and these forums. I've sinced reconfigured from LM to a VM still design.
I'm a little concerned with my layout as I have not seen a VM still in a similar layout before.
Key differences from what I have seen to date:
2" all the way from the boiler to the condensers (yup, there are two of them!)
No reduced diameter horizontal offtake for the VM section (left side of my plan)
No Leibig condensor on the VM side, replaced with a simple double helix coil, same as the other side
Site glass above the column packing to keep an eye on flooding
Site glass at the take-off point - I can keep an eye on the level and match manage my offtake via adjustments to the vapour management valve and the condensate outlet
At the site glass and up to the "Y" piece I will have a turbulant ribbon inserted
The "Y" piece will have a temperature probe inserted - I'm concerned that the condensate returning from the reflux side of the still (Right hand side) will interfere with the accuracy of trying to read the vapour temperature - is this a real issue that I need to address?
Column is 1.5m to the site glass and the condeners are 300mm high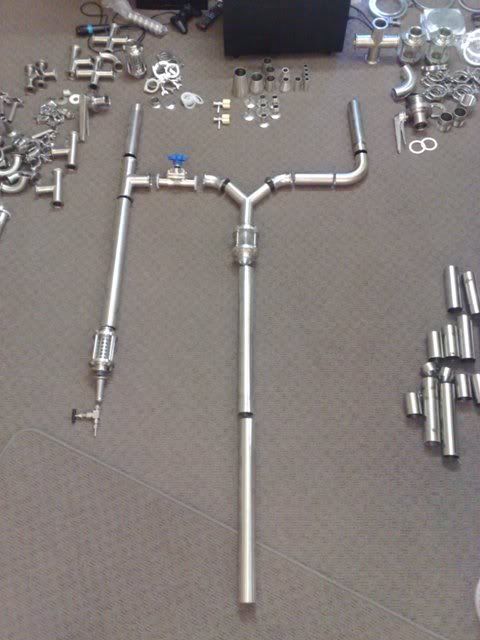 I appreciate your time and efforts in providing me with feedback.
Cheers,
Mech.