All:
I am running my first actual spirit run on the Nixon Stone head tonight, so I thought I'd check-in with you on operating procedures. My boiler charge was ~11 gallons of all grain fermented wash. My Ph pen broke but the grain calculation was for an Expected-OG of 1.07.
It finished at 1.04 and wouldnt go lower (hydrometer measurement floating in the wash).
Pic1 shows the head as completed.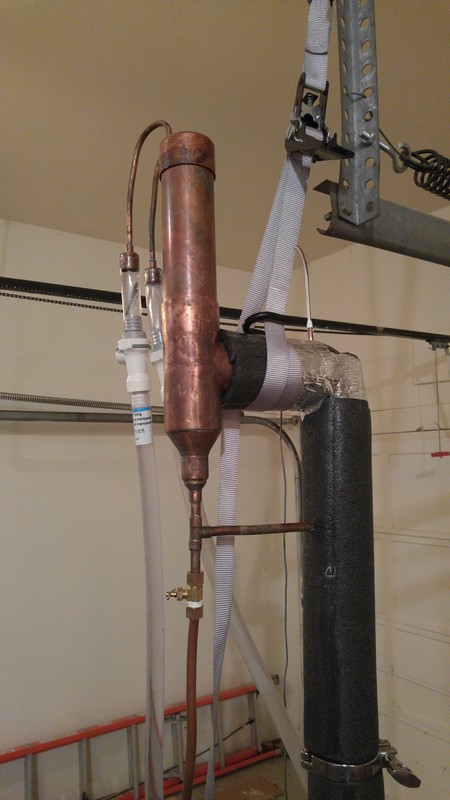 Column height: My packed column is 39" in length. In the picture its the black insulated section below the triclamp. There's about nine inches of unpacked column above that in the head.
The packing is tightly roled copper mesh. I could blow through it and water pours through it readily (cleaning).
Pic 2 shows the stabilization period at 174 degrees about 24 minutes in.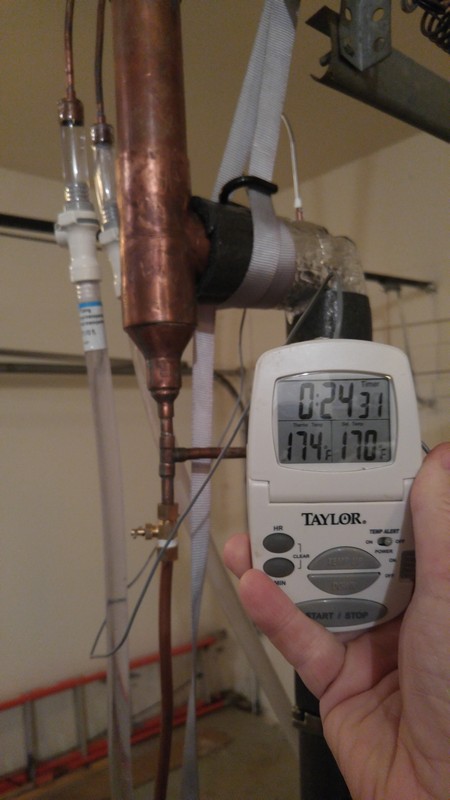 This was my first charge run. I was using the thermometer to regulate the column temperature to stabilize for 40 minutes as I saw in a YOUTUBE video by Olympic Distillers
https://www.youtube.com/watch?v=rpZdQrvLYCw
at 3:56
I am using a double coil condenser coil in the offset head made from 1/4 tubing. That tubing size substantially restricts the water flow; in being much more than out. The output water is warm to touch. When I open the needle valve, I get a very small sputtering stream.
Bizarre! I collected a little more than a1/2 half pint of FORES as I was typing my email.
I switched over to a larger collection jar and almost immediately the drip stream seemed to virtually stop, just a few drops a second. I look at the temperature and its 202 degreesF.
I was running at 10Amps or about 2400 watts through the stabilization period at a steady 175 degrees.
Anything above virtually off causes the temp to spike up again. The stream was still low. Very finicky and at this rate would take hours to work through the 11 gal charge.
So I decided to stop, to run it with the POT STILL tomorrow, as I understand how to operate the pot still. I don't yet understand the NS head operation and how to manage it. I do not yet understand what temperature(s) I should be working with - starting , finishing, etc. I haven't been able to find a guide on this topic. Would anyone care to mentor me on learning this NS Head operation?
VARocketry
PS 1) The 3/8" needle valve has a very small orifice, it seems like it substantially constrict flow even in wide open position.
2) the double coil in the head is made with 1/4 tubing. The Coolant flow is not great through it. The outflow water is warm to touch so its doing some knockdown, no doubt.
3) What are the operating inputs to using this design? What should I be trying to manage and how?